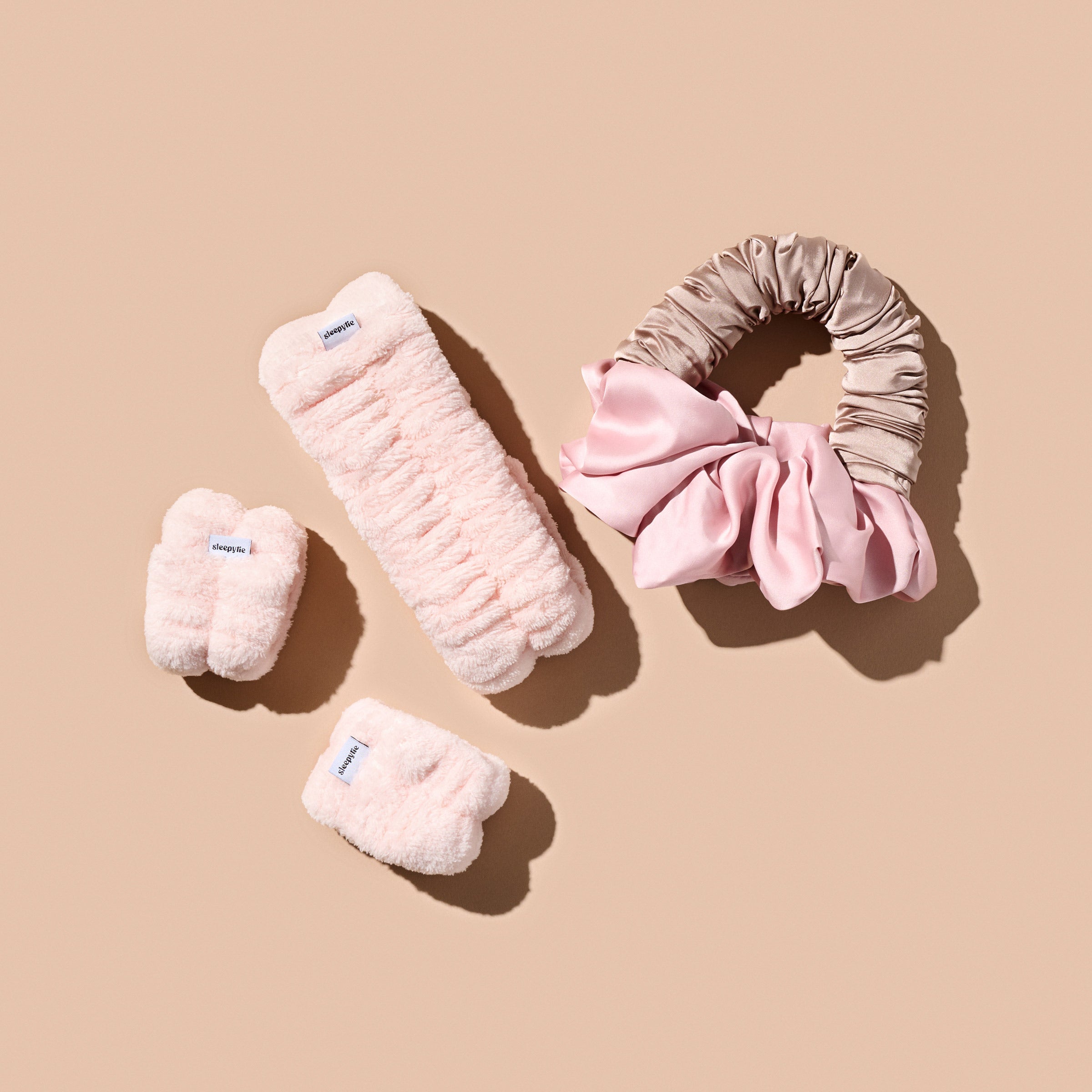 The Cloud Puff Face Wash Headband + Wristband Duo
Elevate your skincare game with "The Cloud Puff Face Wash Headband and Wristband Duo," designed to complement your Sleepy Tie® or work beautifully on its own. This set shields your hair and arms from unwanted water splashes during your morning or evening beauty rituals. Consider your beauty routine, elevated…again. Crafted from a plush, luxurious and highly absorbent fleece (hence the name 'cloud puff'), it's incredibly comfortable and effective. Presented to you in a chic reusable toiletry bag, it adds a touch of "extra" to your beauty routine while safeguarding your styled hair. Your Sleepy Tie®'s new bff working together to protect and prolong your blow out or styled hair. 

The Cloud Puff Face Wash Headband + Wristband Duo is FINAL SALE. 
Sleepy Tie® has a 14-day money back guarantee. If you are not 100% satisfied with an item you have purchased from our brand, you can return it within 14 days of delivery. Refund requests must be made within 14 days of delivery/notice of delivery. Please note: Sleepy Tie® is not responsible for the costs of returns. 
Please Note: Sleepy Tie® is not responsible for lost orders due to an incorrect address provided by the customer. This includes but is not limited to the wrong apartment, wrong street address, street number, town etc. Please verify all information before completing your purchase.
Sleepy Tie® is not made of silk due to the harmful effects on the environment as well as animal cruelty. Some 6,600 silkworms are killed to make just 1 kilogram of silk which is why we chose to create a luxury satin-polyester blend which provides the same results. 
To learn more about the harmful effects of silk: Click Here
Our purpose is to make beauty products that make your life easier. Sleepy Tie® is a patented design that is a revolutionary way to tie your hair for sleep that allows you to WAKE UP WITH PERFECT HAIR™. This life-changing product will prolong your blow-dried or styled hair while reducing the need for styling tools and repetitive reheating. Sleepy Tie® has been tested on all hair types and textures to prolong your blow-dry or styled hair. It is recommended for individuals with hair at least 2-3" past shoulder length.
SLEEPY TIE® IS A HAND-MADE PRODUCT
As a small business, we thank you for your support from the bottom of our hearts. Each product may have minor variations as every single Sleepy Tie® is made by hand with love.
SHOW US HOW YOU SLEEPY TIE®
Since launch we have learned of so many ways you are using your Sleepy Tie®!
During workouts, self-care routines, labor + delivery, vacation, errands and so much more! Show us your results and how you #sleepytie by tagging us @sleepytie